Last year was a particularly difficult year for many, and we have all hoped that 2021 will see us a brighter and more enjoyable year. Here at Heath Electrical Services, we have tried to see the positives through the negatives and are beyond proud of the accomplishments that we have been able to achieve in the first few months of 2021. We have managed to achieve so much, from welcoming some new members to the Heath Electrical Services family to opening our new HQ! Let's take a look through the achievements we have managed to accomplish so far this year.
An Action-Packed Start & Exciting Things To Come
Heath Electrical Services has continuously been growing, and from this growth, we have already managed to achieve so much! We are continuously looking for specialists to further enhance our customer experience both behind the scenes and face-to-face, which is why we have welcomed three amazing new team members to our HQ. As professionals in the field, we are also always looking to help others start their journey in the electrical industry. We are proud to have welcomed new apprentices to the team and are excited for the many more we will introduce throughout the year.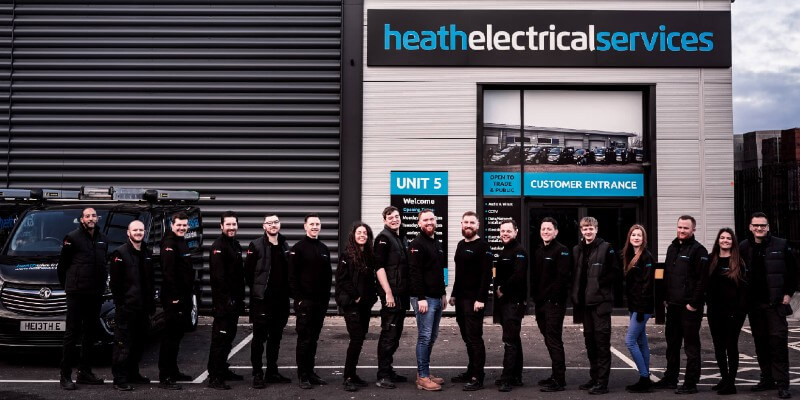 After a lot of hard work and dedication, we opened our very own headquarters based in Rooksley, Milton Keynes, where customers can now purchase advanced electrical equipment and speak to a professional face-to-face. Our new premises is the perfect hub for networking, where our professional team can share their extensive knowledge. You can also find a range of goods at our HQ, including smart devices such as Ring and Nest as well as AV equipment. Our team are more than happy to provide you with information and advice on the best products for your requirements, giving you an expert opinion.
As well as a range of high-quality products, we are also now providing excellent training courses to expand the team's knowledge further to meet and adapt to industry requirements. We also take on apprentices to educate them and provide hands-on experience, many of which become a valued member of the Heath Electrical Services team.
Whether you require assistance choosing the right products for your project, or would like to discuss apprenticeship opportunities, please feel free to pop into our headquarters to speak with our team!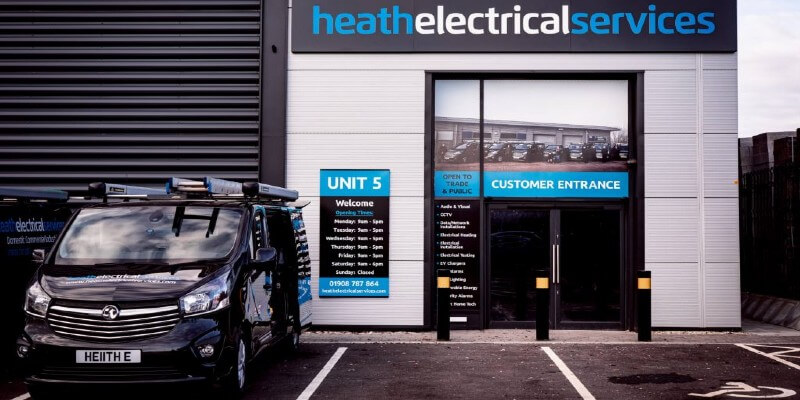 We are beyond excited and proud to welcome three new members to our ever-growing team. Paula, Chelsea and Kelsey have all joined our friendly team to help with management and assistant work here at the HQ.
Paula – Paula started back in February as an account manager heading up the accounts department, looking after purchasing, sales invoicing, and client account queries.
Chelsea – In March, Chelsea joined the Heath Electrical Services team as an office assistant working on bookings, specialising in landlord services, including estate agent bookings.
Kelsey – Our newest member of the team is Kelsey, who is an office assistant that specialises in customer services and new client enquiries.

From left to right: Kelsey, Chelsea, Paula
As mentioned above, we have developed a new training centre that allows our experienced team to share their skills and knowledge with others. This has helped us to welcome two new apprentices who are currently on a trial period and another apprentice who is due to start working with our team next month.
Our apprentices are provided with training courses where they can learn the technical side of the industry and how to complete services safely and to a high standard. As well as this, they are also provided with hands-on experience by shadowing our expert electricians, which gives them an idea of real-life scenarios and how our team communicates with our clients. We greatly value our apprentices, many of which become part of the team after passing their course.
Excited For The Year To Come
The entire team at Heath Electrical Services has worked exceptionally hard over the past year to have achieved everything that we have. From helping customers at home and in the new HQ to welcoming our new members, we are proud to have achieved so much despite the hurdles of 2020, and look to take 2021 by storm. We have had a triumphant year so far, which makes us even more excited for the year to come. Keep an eye out on our blog for updates on other achievements that we make throughout 2021!