Our team is fully accredited, with over
80 years

of combined experience in the electrical industry.
363
On average replaced each year
5/5
Customer Satisfaction Rating
About Our Consumer Units & Fuse Boards
Are you worried the fuse box in your house is too old and no longer complies with electrical UK regulations? Is it time to replace it with a more modern consumer unit? How long is it going to take and more specifically, how much is it going to cost?
Read on and you'll find out all the answers to these questions including what is involved in the replacement process so you can make the right choice for your household.

What is the difference between a fuse box and an electrical consumer unit?
A fuse box and a consumer unit serve the same purpose. They distribute electricity in your house through multiple circuits and instantly turn the power off whenever a power overload occurs on one of the circuits, which is commonly known as "tripping".
When "tripping" occurs, a consumer unit will switch the power off using the circuit breaker linked to the overloaded circuit. It will turn itself to the position OFF making the faulty circuit easily identifiable. Once the circuit is fixed, the circuit breaker can be switched back on and the power restored.
A fuse box uses fuses instead of circuit breakers. Each fuse contains a wire which will melt if there is an electrical overload and make the circuit trip and switch the power off.
It is not as easy to identify a faulty circuit when using a fuse box and the, now melted fuse, will need to be replaced before the power can be restored. Consumer units are basically the modern and safer version of fuse boxes which in most cases are no longer compliant with current electrical regulations. If your house is fitted with an old fuse box, it might be time to for you to replace it.
Consumer Units
Heath Electrical Services specialise in both the repair and replacement of consumer units. Replacement is particularly recommended if your property still has a plastic unit. While plastic units are not illegal, modern metal clad is considerably safer. During the electrical consumer unit installation, a member of our accredited team will complete a thorough inspection of the unit and all associated switchgear. They will check the current positioning of boards to ensure that it does not pose any dangers. For example, opting to place units under wooden stairs come alongside high fire risks, so will be moved to a safer location in the property. It can then be determined whether your home would be best suited to a fully loaded, main switch or high integrity consumer unit.
Which consumer unit is right for my house?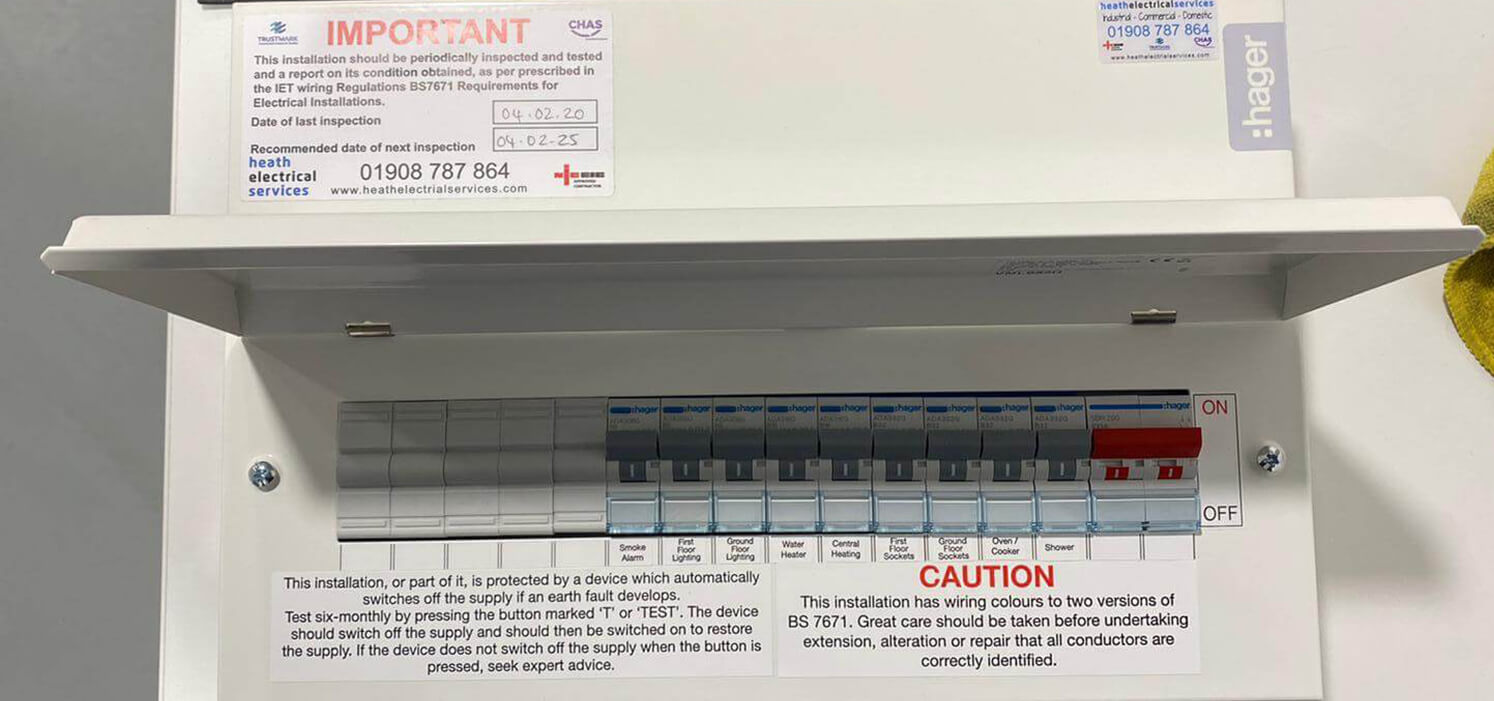 Main Switch Consumer Unit
This type of consumer unit only has one main switch from which all circuits in the house can be switched off. In case of an electrical fault, you will only have one protective device trip. This is a very popular choice, especially for single storey houses and small flats.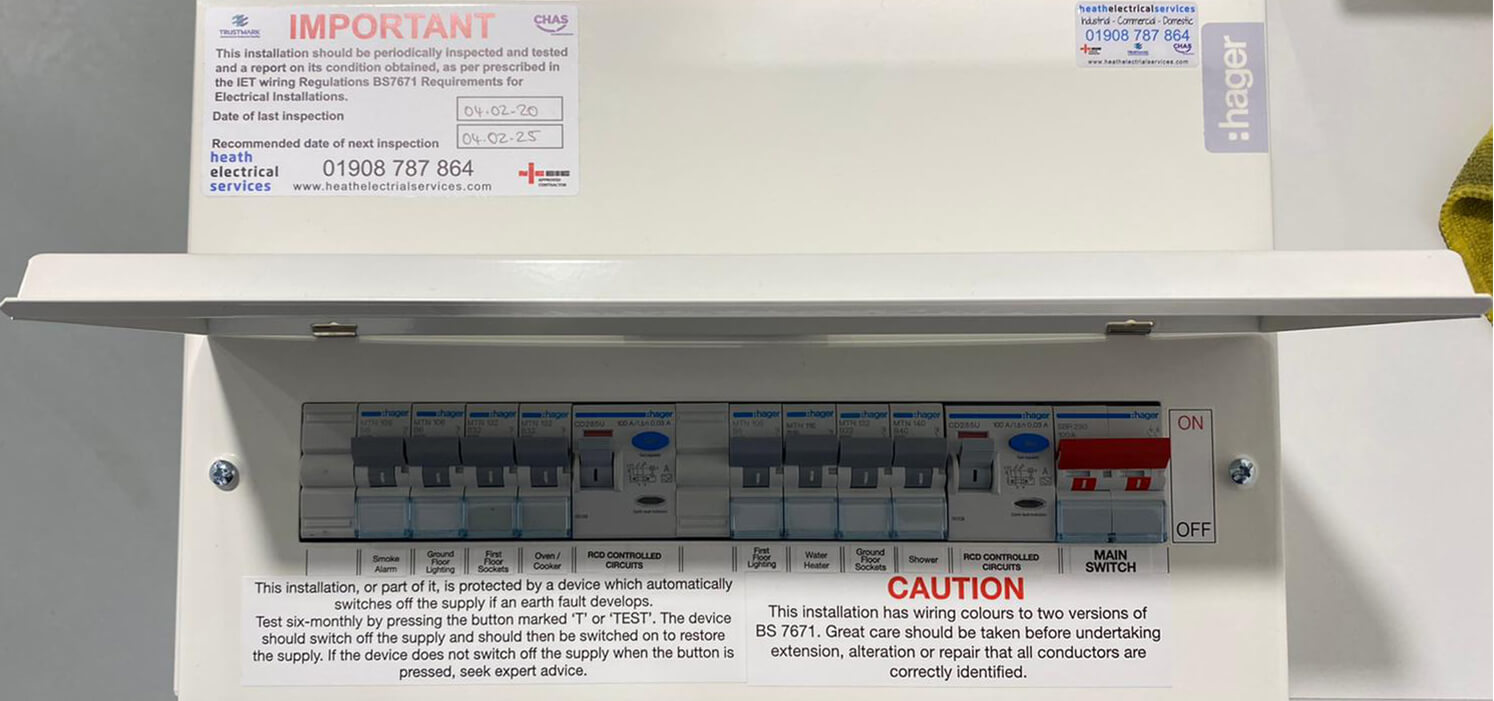 Dual RCD Consumer Unit
A dual RCD (residual current device) consumer Unit offers the ability to split load the power over two sets of RCDs, RCD1 and RCD2. The advantage of this consumer unit is that it is possible to alternate the circuits so the power can still be available in some part of the house if one of the RCDs is no longer operational. This is ideal for multiple storey houses.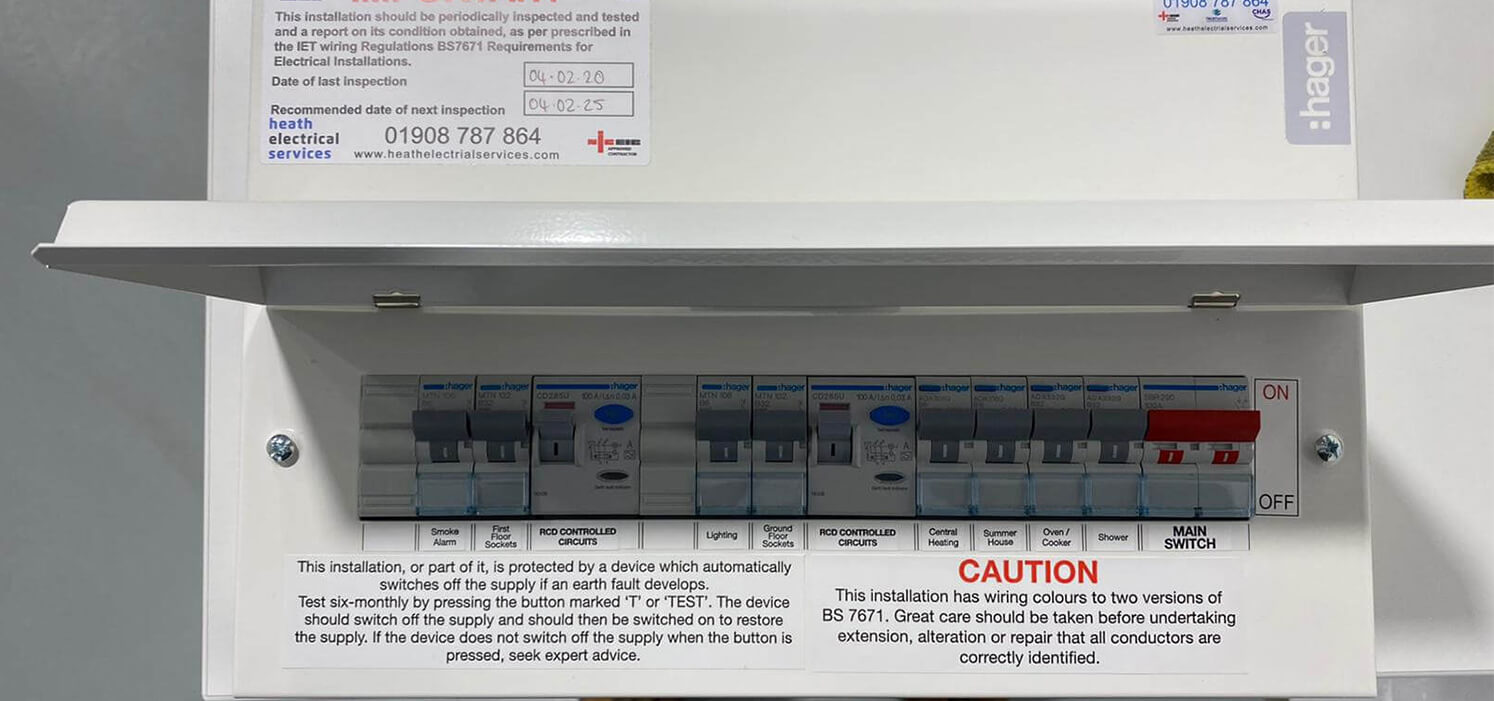 High Integrity Consumer Unit
High Integrity consumer unit have become a very popular choice over time as they offer the ability to separate all circuits independently. So while your freezer may stop working, everything else will continue working without interruption.
Same Day service
Heath Electrical Services aim to keep disruption to daily operations at a minimum. All jobs will be completed based on your schedule, with same-day appointments available if necessary.
Here to Help
With over 80 years of combined experience, our team has built extensive knowledge on an array of topics. They can share their expertise if you need advice on a particular service.
Affordable Prices
We take an honest approach to electrical services, providing affordable prices with no hidden fees. Please feel free to contact us if you would like a quotation.
Customer Testimonial
"Couldn't recommend Heath Electrical Services more! The team are friendly, knowledgeable and professional. They'll definitely be our first port of call if we're ever in need."