At Heath Electrical Services, our team offers various safety and security systems for your premises, whether domestic or commercial. It is at the forefront of our minds to keep our clients as safe as possible, so we have put together a guide on how we can help you to keep yourself, your family or your staff protected.
Our top ways to improve safety and security
As dedicated domestic and commercial electricians in Milton Keynes, we have built extensive knowledge and experience over the years, allowing us to pair our clients with the best-suited safety and security systems. If you are interested in any of our services, feel free to contact us now!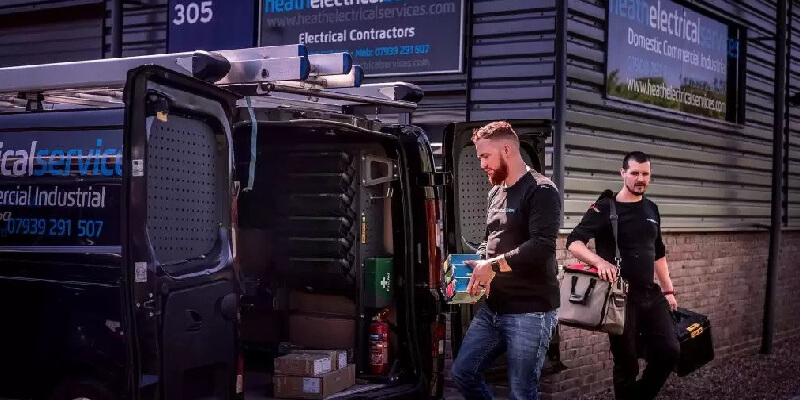 CCTV systems are a vital way of ensuring your commercial or domestic property is kept safe and protected against intruders. With these systems in place, you dramatically reduce the likelihood of crime on your property, offering one of the most effective deterrents.
Our team of domestic and commercial electricians in Milton Keynes offer discrete CCTV systems that blend seamlessly with your property. If you are unsure which product suits your needs, they would always be more than happy to recommend brands and models, which can then be both supplied and installed by our electricians.
Nowadays, with advanced CCTV technology, you can view live feeds from your device wherever you are, meaning no matter how far away you may be, you can control and monitor your property at all times. This offers a great alternative to large-manned security for your commercial property, making this a brilliant and essential tool for self-defence and protection against intruders.
Our reputable team of electricians in Milton Keynes have gathered extensive experience in installing CCTV, meaning that you can be provided with a range of different services involving CCTV cameras, such as repairing existing CCTV systems and taking over the maintenance of the system!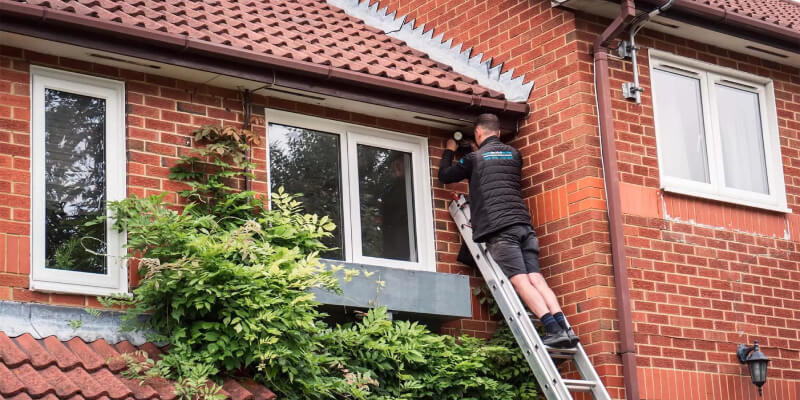 If you invest in our highly innovative security alarm systems, you will be guaranteed optimum security and protection, as with these state-of-the-art visible alarm systems, you are proven to be 80% less likely to experience a burglary.
Our systems are designed to ensure that they scare away intruders whilst also contacting local authorities to make sure help is on the way as soon as possible, which ultimately helps and allows your whole neighbourhood to be protected and helps all citizens around you feel safer and secure.
With over 80 years of combined experience, you will be guaranteed a team with extensive knowledge and expertise in the systems and how to install them, along with being able to answer any question you may need to ask!
Training in fitting both mains and battery-powered smoke alarms, our electricians in Milton Keynes ensure that your systems are not only installed correctly but also tested and regularly maintained. These systems are vital in providing an early warning of danger, allowing you to evacuate your home or commercial property while the risk is low.
Although battery-powered smoke alarms are still widely used, we often recommend combining these with a mains alternative. Why? Because this ensures that you are alerted of a fire in all circumstances. If you forget to change the batteries in your battery-powered alarm, you can rely on your mains system. Yet, if there is a power cut and the mains alarm is shut off, you will have a backup in place that does not rely on an electricity supply.
Our trained team have a wealth of knowledge in smoke alarms and will ensure they run through how to test and maintain your system after installation.

Our highly trained, qualified specialists can install door entry systems and carry out ongoing maintenance on your home or commercial property. This not only reduces the risk of being targeted by intruders but can also help to lower insurance premiums, saving money in the long run. For homeowners, our team are certified in the installation of Ring products, including doorbells, cameras and alarms.
As a business owner, by investing in door entry systems, you will no longer need to worry about changing locks for your commercial property. Gone are the days of re-issuing new keys if they are lost or stolen, as instead, staff will be given fobs or electronic keys that are simply reconfigured when they leave – it's a quick, easy and cost-effective alternative!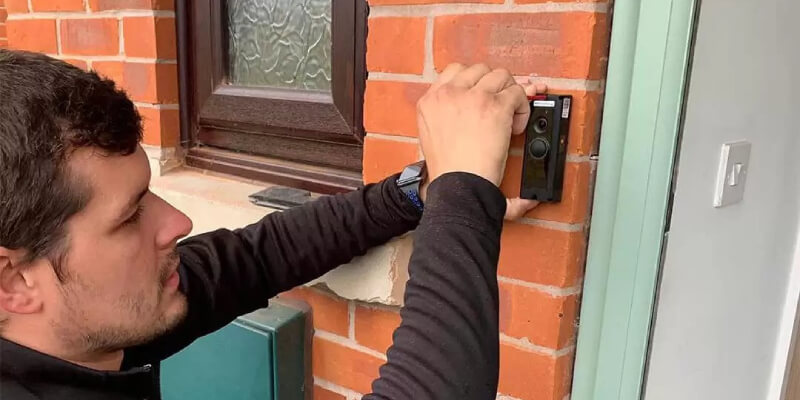 Fire alarms are a must-have in any property and must be correctly installed and actively monitored, which our team of electricians in Milton Keynes can do at a high quality for a low cost!
It is a legal requirement for both domestic and commercial properties to have fully functional and up-to-date fire alarm systems. For this reason, our team will always spend time carefully assessing and inspecting your building, such as aspects like the structure of the building; this allows them to decide which system is fit for the property.
There are different types of fire alarm systems that our team can install, including:
Conventional system: this type is best for environments that are at low risk of a fire occurring. They are connected to the main control panel, which separates detectors by zone, meaning they are unable to pinpoint the specific area of the fire.
Addressable Systems: these are of the same concept as conventional systems; although they are able to tell you the precise location of the fire or problem, each device has its own electronic device making it an excellent idea for high-risk environments.
Wireless systems: this system is a useful alternative to traditional wired alarm systems as they have sensors set off by triggers to alert the fire alarm panel. These are great for properties and buildings that want to avoid using many cables.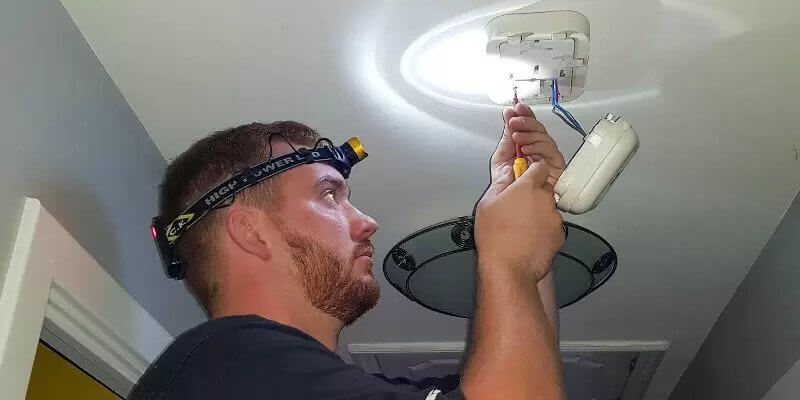 Emergency lighting is a perfect way of illuminating pathways to safely evacuate people quickly and safely, making sure they know where to go and are led by the light in the event of any problems.
They are typically used when there is no other source of electricity, such as in a fire or when there is a power cut, which is incredibly useful as you always need multiple forms of safety to get people out effectively!
The main 4 types of emergency lighting include:
Escape route lighting
Open area lighting
Standby lighting
High-risk task area lighting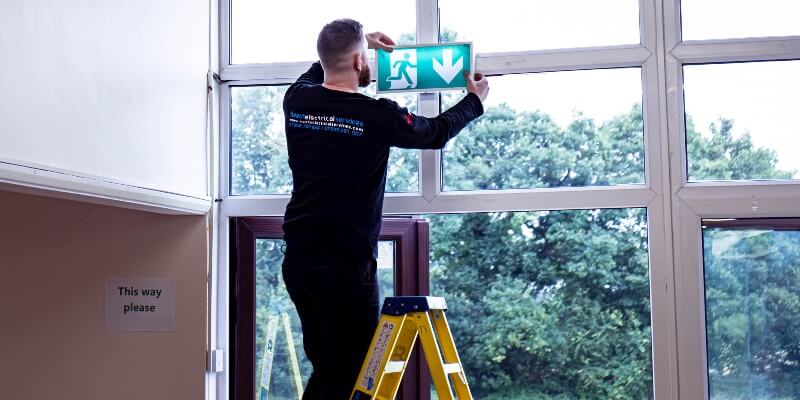 24/7 safety and security
Now that you know and understand the different services we offer that provide you and your colleagues or families optimum comfort, safety and security whenever you require it, we recommend contacting our team of experts to request an enquiry or get started on your journey with us!