While 2021 has continued to be far from the norm, at Heath Electrical Services, we're proud to have been able to keep growing through these uncertain times and have been lucky enough to achieve many of our aims this year. Our commitment to quality, reliability and client care has meant that we have had many wonderful opportunities to grow our business. From welcoming new team members to launching our new branches, showroom and more, it's certainly been a busy year, and we couldn't be more grateful to our clients for their ongoing support!
What we've been up to throughout the year…
Since opening in 2013, our electrical contractors in Milton Keynes have continued to deliver top-quality services to both commercial and domestic clients in the area and surrounding locations. This has led to an outstanding reputation and, as a result, tons of excellent opportunities to take Heath Electrical Services to the next level. We have grown immensely in the last year, so we thought we would take a look back at just a few of the things we have achieved. With this in mind, throughout 2021, we have: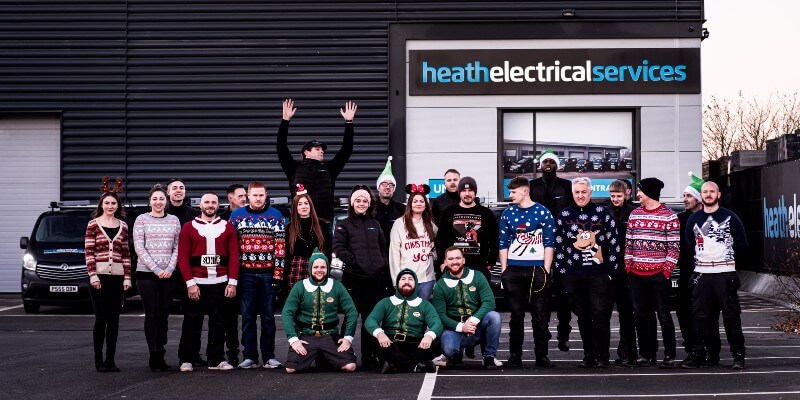 We most definitely started 2021 on the right foot by making the move to our new, much bigger HQ in Rooksley, Milton Keynes. Starting in late 2020, our team worked hard around their busy schedules to kit out our new space to accommodate offices, a warehouse, training areas, a fully equipped kitchen and gym, and more. By March, our new premises was open, and we still couldn't be happier with the results – we're loving having a space that works for our ever-growing team!
Our new HQ is more than a space for our team as our showroom is also open to the public, by appointment only, Monday to Friday, from 9am to 5pm. We also regularly run training courses courtesy of our suppliers and partners, so be sure to keep an eye out for upcoming dates!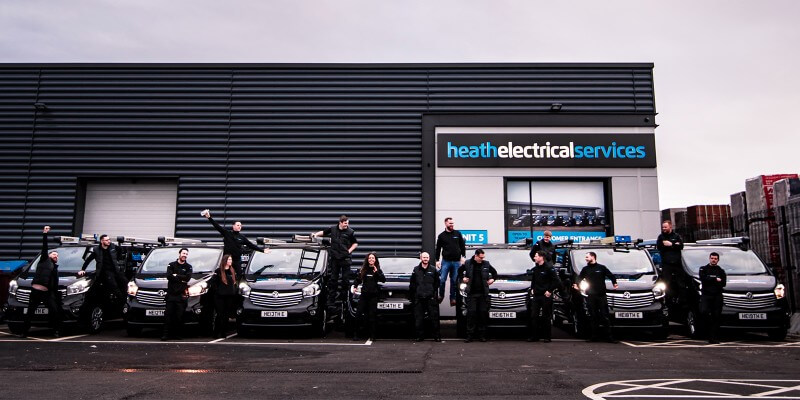 Having been open for eight years, we've grown from just a few electricians to a team of more than 25 staff, a number that continues to grow each year. Despite the uncertainty of the pandemic, we've been lucky enough to welcome over 10 excellent new permanent members to the Heath Electrical Services family, all of which have become an asset to our team. The new team members that have joined us this year are:
Office team: Kelsey, Christa, Zoe & Andy
Electricians: Shane, Blake & Darren
Plumbing and heating engineers: Jason & Mark
Apprentices: Mitch & Dan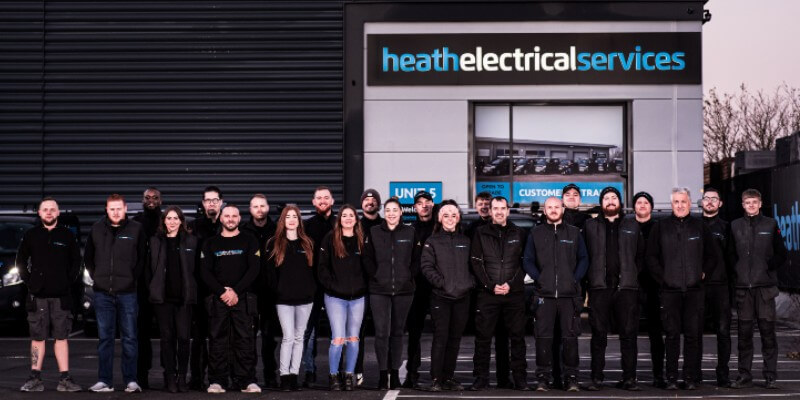 We love to work with the local community, so when we were contacted by The Bus Shelter MK to tender for their latest project, we were eager to get involved!
Having first met the team behind The Bus Shelter MK around 3 years ago, we have been providing our repair and maintenance services to this wonderful charity ever since. This year, they moved to a brand new site in Stantonbury and invited local companies to tender for the full strip out and reinstallation of wiring and electricals.
Our team were thrilled to be awarded this contract and worked closely with The Bus Shelter MK team throughout the project to ensure that the new site met all of their requirements. The work involved stripping out the old space, replacing all the electrics and installing CCTV, fire alarms, emergency lighting, LED lighting and much more. We also fitted wireless access points across the site so that residents could use their electrical devices in all outbuildings.
Although the fit-out is now complete, we will continue to visit the site regularly for maintenance and to complete our electrical inspections and testing in Milton Keynes.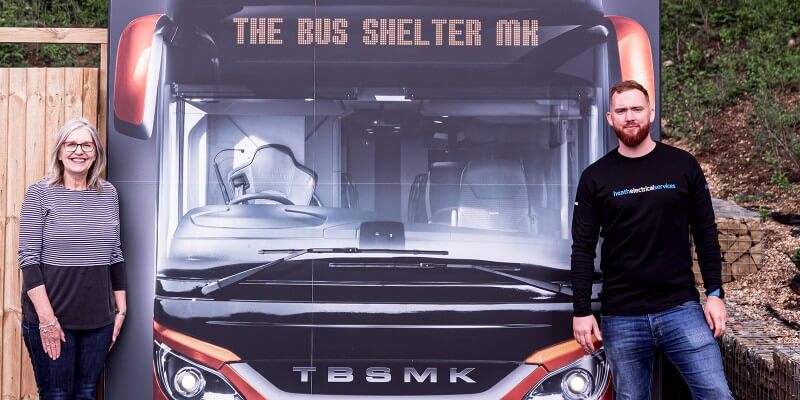 Having covered all manner of electrical services for the past 8 years, we wanted to begin offering our clients a more comprehensive package, allowing them to complete their entire project under one contract. This led to the decision to add plumbing, heating and gas to our extensive list of services and welcome our new engineers, Jason and Mark, to our team!
Our skilled engineers cover everything from installations to maintenance, testing and annual servicing. These services are available for both commercial and domestic clients and include a free consultation to discuss works before going ahead. Not only this, but our engineers are also available on an emergency basis to cover heating and plumbing call-outs, ensuring that your property always remains safe. Feel free to contact us if you have any questions or would like to book a consultation.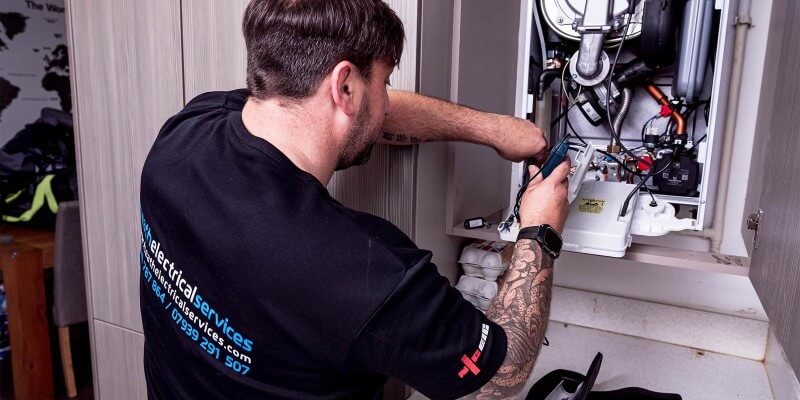 As mentioned above, our new HQ features several training rooms, which we have put to good use this year! One highlight was the training day hosted by Alex from Aico, which we held for letting agents and property managers from Milton Keynes and the surrounding areas.
With three sessions held over the course of a day, the Aico training day covered many important topics relating to fire and carbon monoxide safety, including the latest regulations. As Aico is the European Market Leader for Home Life Safety, their representatives have extensive knowledge in this area, and our attendees found their sessions incredibly valuable.
A huge thank you to Alex for such an insightful training day, it was an excellent turnout, and we look forward to future sessions with Aico. Throughout 2022, we will be continuing to work closely with the brand to provide our clients with leading fire and CO detection.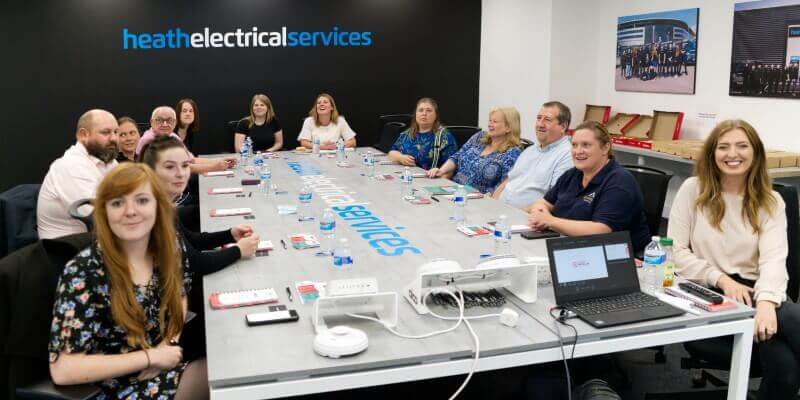 When we first announced our new HQ, we mentioned our plans to open a showroom in the near future. While this is still in progress, we are pleased to announce that our showroom is now open by invitation only, so please do not hesitate to get in touch with our team to book an appointment!
Our showroom features all manner of industry-leading brands to help you to determine which products best suits your project. This not only includes Ring and Nest devices but also examples of the different EV charging units available, along with a range of Aico products.
During your showroom visit, there will always be a member of our team on hand to walk you through different products and make recommendations. We are always more than happy to answer any questions you may have, so feel free to pick our brains!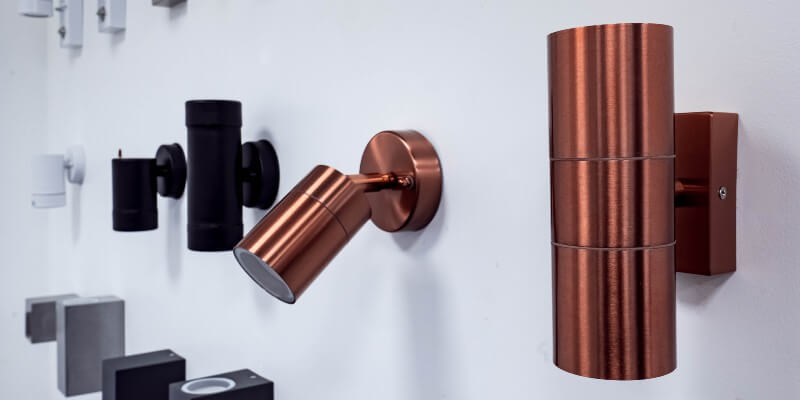 As we started our round-up with our new Milton Keynes HQ, we thought we would end with our most recently opened branch in Leighton Buzzard. It was great to see this site come together after many months of kitting out the interior and perfectly matching the exterior to our Milton Keynes premises. We now have team members Matt, Shane and Al, all based here full time. Along with offices, our Leighton Buzzard branch also stocks a vast range of industry-leading products, available for our clients local to the area.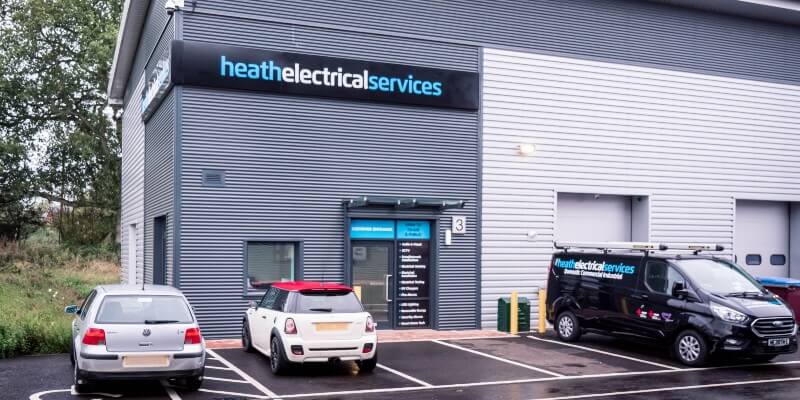 We're looking forward to another successful year!
2021 has been yet another hugely successful year for Heath Electrical Services, so we would like to end by saying a huge thank you to our clients who have continued to support us throughout the year. We are very much looking forward to taking on new projects and building relationships in the New Year, and couldn't be more excited to see where 2022 will take us!
Over the Christmas period, we will be running skeleton staff between the 27th of December and the 3rd of January. During this time, we will have limited plumbers available, and our electricians in Milton Keynes will be covering emergency works only. We will resume normal operations as of the 4th of January.