We recently hosted a training day with the home safety specialist, Aico, at our Heath Electrical Services HQ, and what a success it was! Attended by those in the property industry, the sessions were hugely informative and covered several topics crucial in maintaining fire and carbon monoxide safety.
A day filled with informative safety training sessions
On Monday 20th September, we ran three sessions over the course of the day, all of which were led by Alex from Aico. The training day was attended by letting agents and property managers from across Milton Keynes and beyond, who were keen to expand their knowledge on maximising home safety.
The training sessions covered a host of important topics, including the relevant sections of the British Standards regulations for fire safety and carbon monoxide, the differences between legislations and the Standard itself. These all fall within the responsibilities of letting agents, property managers and landlords, but advice varies depending on the occupation of the property. Our team are highly experienced in providing services for landlords, including the installation of smoke alarms and more, so we were also on hand to provide guidance during the sessions.
We were thrilled to have the opportunity to host this training course and support our commitment to ensuring that those in the industry are provided with the knowledge and resources they need to keep their properties and tenants safe. It was an excellent turnout, and we received some great feedback from attendees!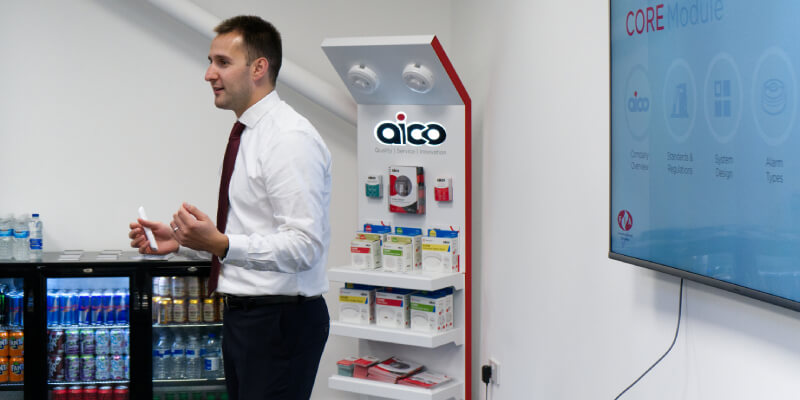 Who is Aico?
Known for their high quality, exceptionally designed alarms, Aico has become the European Market Leader for Home Life Safety. They have created a broad range of smoke, heat and carbon monoxide alarms, all of which meet UK standards and are available in several different designs to fit with property requirements.
In the past year, Aico has expanded its expertise to now cover Internet of Things (IoT) solutions. Their latest introduction, HomeLINK, combines smart home integration with analytics technology to offer an innovative platform.
Aico shares similar values to our team at Heath Electrical Services and is focused on the highest standard of integrity, teamwork and excellence. They work hard to ensure that they remain leaders in the market and continue to uphold their reputation amongst customers and installers.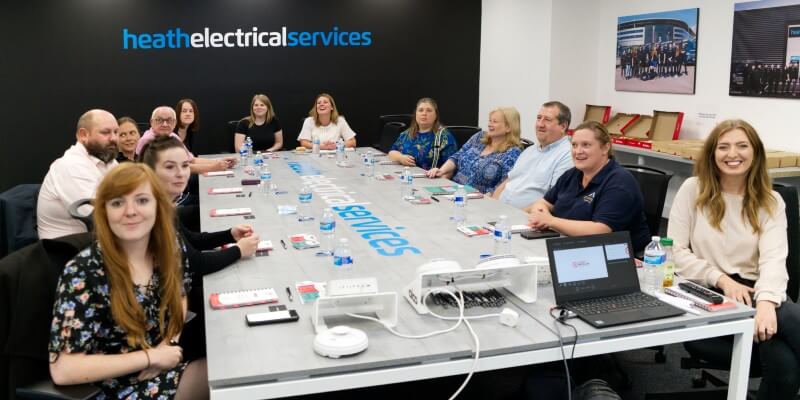 Our continued work with Aico
Over the upcoming months, we will be continuing to work closely with Aico to bring you leading fire and CO detection. Once our showroom is complete and open, we will also be showcasing a range of leading Aico products through our interactive display. Here you will be able to learn more about the product range, including the award-winning SmartLINK Gateway, an alarm management system designed to offer real-time reporting.
In the meantime, if you have any questions regarding home safety or need the help of our electricians in Milton Keynes, please do not hesitate to get in touch. We would be more than happy to schedule a visit to your home to assess current systems and recommend areas for improvement. Don't forget to also keep an eye out for new training days!