With electric vehicles becoming increasingly popular in the UK, more and more home and business owners are having electric vehicle (EV) chargers installed at their properties. This enables users to charge their vehicles from the comfort of their homes or while they work, saving them time and money that would otherwise be spent at charging stations. If you are among the 420,000 electric car users in the UK and are considering having an EV charging point installed, our handy guide is here to help you make informed decisions and demonstrates the benefits of having one installed.
EV charger installation: everything you need to know
As highly qualified and experienced residential and commercial electricians in Milton Keynes and the surrounding areas, we have carried out many EV charging point installations for homes and business properties alike. Over the years, we have acquired lots of valuable knowledge and would like to share this with you in this article.
There are a few things that will affect the type of EV charger you choose to have installed on your property, including cost, efficiency and grant eligibility. The process of selecting your EV charger with the help of our team will look something like this:
Free bespoke quotation – our first step is always to point you in the direction of our online enquiry form. It's designed to take you step-by-step through all the information we need to provide you with a perfectly tailored quote. We'll need to know a few details about your consumer unit, electricity meter and position of the new charger. Don't worry if that doesn't mean much to you, there are handy hints at every stage.
Charger selection – if you already know the type of charger you prefer, you can specify this when filling out the form; if you don't, we'll help you choose. If you'd like to view your options in the flesh, book an appointment at our MK showroom, where you can compare across brands including Easee, Hypervolt, Zappi, Andersen and Rolec. Whether you're looking for specific features or budget is your top priority, we're here to advise on the best charger to suit your needs.
Installation and home adjustments – you may need additional circuits or other adjustments to accommodate your new charger. On the day, we'll carry out this work and install your brand new EV charger. Before finishing, we'll commission your new device, set up any apps and show you how everything works.
Following the end of the Electric Vehicle Homecharge Scheme (EVHS) earlier this year, grant eligibility has significantly changed. However, as OZEV-approved installers, we are still able to deliver the Workplace Charging Scheme (WCS) for businesses and the new EV Chargepoint grant for homeowners living in flats and renters.
Any individual or organisation installing EV chargers for government grants must be OZEV (formally OLEV) certified. Most EV charger manufacturers require those installing and maintaining their products to be highly trained, registered engineers. Not only are we OZEV approved, we regularly work alongside major manufacturers of EV chargers and take part in frequent training to keep our knowledge of new products and industry developments up to date.
By enlisting the help of our electricians in Milton Keynes or one of the surrounding areas, you can expect a high quality, tailored service and valuable input from industry professionals.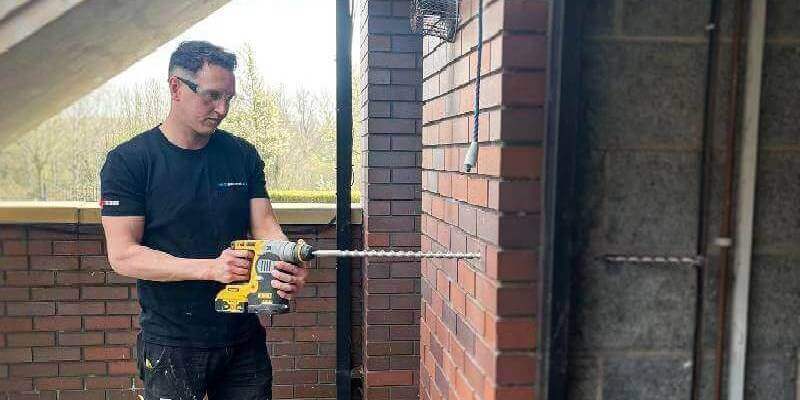 Our EV charger installation for homes
When you employ the help of our team of skilled and dedicated electricians to install an EV charger on your property, you will experience a range of benefits, including but not limited to the following:
Increase the value of your home – by adding a charging point for electric vehicles to your property, you are adding a selling point which will attract many potential buyers, should you decide to sell.
Save money – the price of electricity is changing all the time but Auto Express estimates that electricity will cost 14p/kWh to charge your EV at home, compared to 34p/KWh at a public charging station. For homeowners living in flats and people in rented properties, the EV Chargepoint grant could cover up to 75% of the cost of installation.
Save time – not only will you avoid having to drive to public EV charging points, but you will also be able to charge your vehicle quicker at home with a charging point compared to simply plugging it into the mains. While you can charge your car this way, the maximum current that can be supplied by a home socket is around half that produced by a specialised EV charger. By opting for a home EV charging point, you will avoid leaving your car to charge for extended periods of time, allowing you far more freedom!
Increased convenience – access to a home charging point enables you to charge your vehicle as and when needed. Without this, you're likely to be relying on public charging points. Not only are these relatively sparse across the country, but you may also have to wait in a queue before being able to use one, and it's frustratingly common to find them out of service.
Protect your vehicle's battery life – in order to preserve the longevity of your electric vehicle's battery life, you should avoid charging it more than necessary. It is best to charge it for long periods of time until it is full, rather than frequently charging it for shorter periods of time. This is much easier to do when you have access to a home charging point.
If you're interested in experiencing these benefits for yourself, why not make an enquiry today for more information?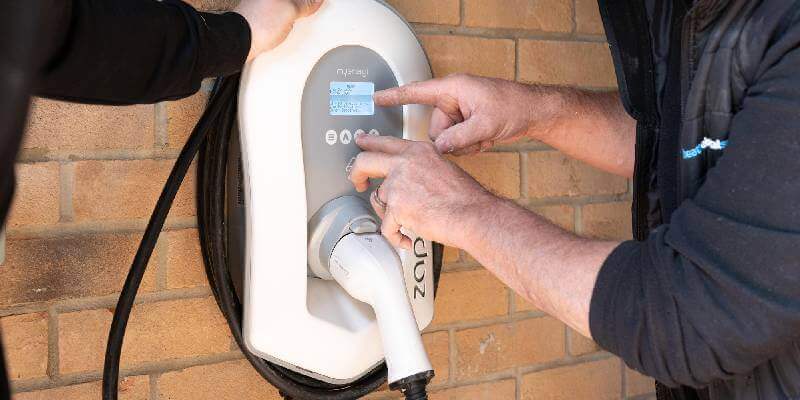 Our EV charger installation for businesses
Our team of electrical contractors in Milton Keynes specialise in providing and installing commercial EV chargers. Here are a few reasons why you should consider enlisting our help to install EV charging points on your commercial property:
Wide range of possible installation locations – whether you're looking for a single charge point or to supply a fleet, our team is able to install commercial EV charging points in a wide range of settings. We have installed chargers in both underground and overground parking areas for offices, retail parks and industrial sites, to name but a few!
Benefits to employees – many of the advantages of home EV charging points listed above also apply to employees with access to a workplace EV charging point. By providing this to your employees, you'll be adding an attractive workplace perk, setting your business out as one that values its employees as well as the environment.
Flexible installation times – we understand the tight schedules many businesses run to. We work with you to select installation options which cause minimal disruption.
For more information, please feel free to make an enquiry today or email Matt at [email protected].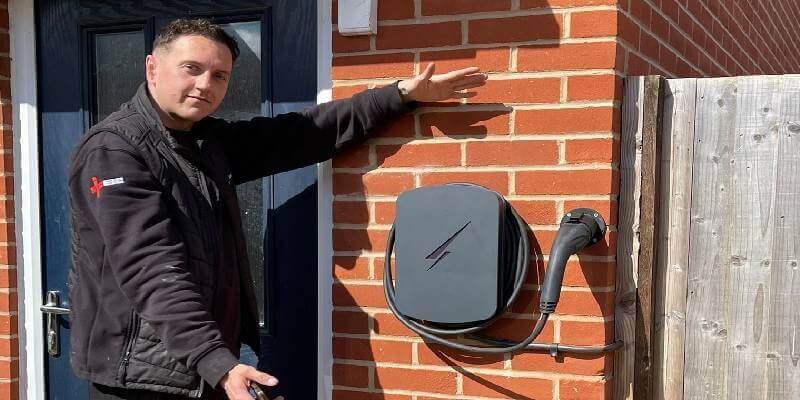 Our guide to EV charger installation
Whether you are a homeowner considering having an EV charging point installed on your property to increase convenience and save time and money or a business owner looking to create similar benefits for employees, we hope that our article has been helpful. Get in touch with our team today if you're ready to get started on your journey to efficient and practical charging!