With technology constantly evolving, it's easy to lose track of the latest office gadgets. This is why we have compiled a list of the most popular ones. Knowing the best electrical gadgets for your commercial property is important as they can help improve efficiency and productivity, so keep reading and find out what you should invest in to improve your office space.
What are the best electrical gadgets?
With such a variety of electrical gadgets available on the market, it is almost impossible to decide which are the very best. While some gadgets help improve productivity, others bring entertainment or promote health benefits. For this reason, it is the atmosphere of the office itself, and the individuals who work there, which determine what gadgets work best.
Today, we use various electronic gadgets in our daily lives – including for cooking and communication purposes. It's safe to say without them, we would all feel a little lost. Incorporating innovative electrical gadgets into your place of work will, therefore, make the environment feel more normal to employees and will ensure your commercial property is not trailing behind in terms of technological advancements.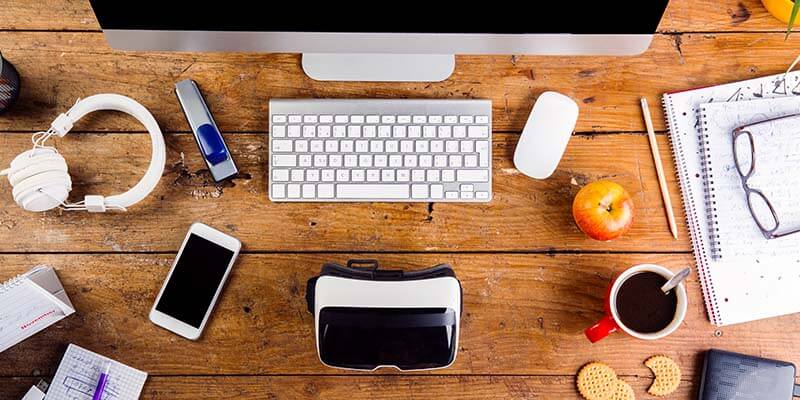 Scanmarker Air digital highlighter
The scanmarker air digital highlighter is slowly becoming an office must have. This pen-shaped digital highlighter is able to slide across any printed text and instantly transfer it onto an application on your computer using text recognition technology. Not only does its durable, lightweight and ergonomic design facilitate user-friendly scanning, but its advanced technology enables fast and impressively accurate recognition of over 40 languages! This is a product everyone can utilise in the office as it is compatible with Windows and Mac, Apple iOS and Andriod devices.
Another interesting feature of this pen is that it can read scanned text out loud. The integrated text-to-speech function allows you to hear the text being read back to you while being scanned into your computer.
Potentially the most significant benefit of this digital highlighter is its time-saving capabilities. By entering text 30 times faster than manual typing and instantly appearing on your chosen application, you will be able to use the extra time you have saved completing other tasks required of you. This means your workload is less likely to build up, alleviating stress and improving productivity.
USB coffee warmer
We all know how important it is to stay hydrated throughout the day, but there have been many studies which suggest drinking tea actually has many health benefits. We are all guilty of making a nice hot cup of tea or coffee in the morning, getting distracted by our work, forgetting about it and letting it go cold. This problem can be easily avoided with this quirky USB coffee warmer. All you need to do is plug the device into your computer's USB port and, just like that, you have an instant heated hot drink. This gadget would be especially useful in the winter when your office may feel colder than normal, and you need a hot beverage to warm you up.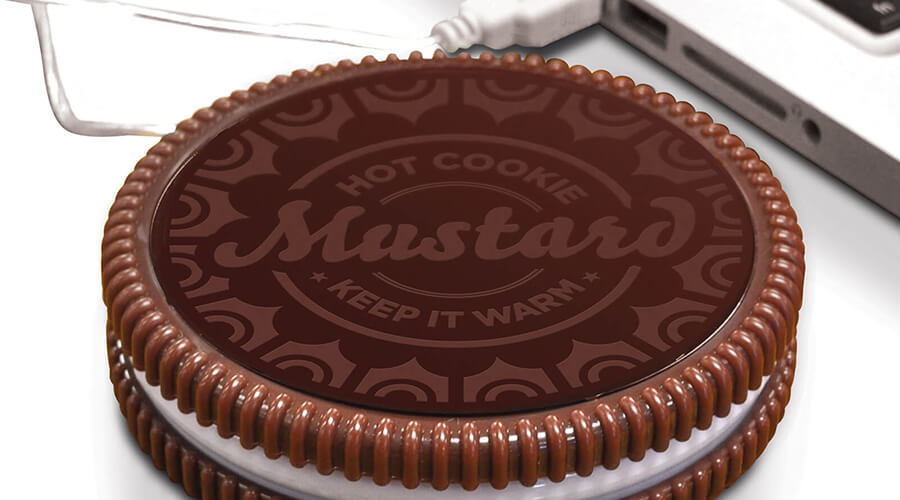 Sky panel light diffuser
A study published in the Journal of Sleep and Sleep Disorders Research found that exposure to natural light in an office has a direct impact on employee's quality of life. It was reported that individuals who sit near windows while they work get, on average, 46 more minutes of sleep per night than their peers. Although natural light sources are optimal, artificial light is better than having a lack of illumination. As an alternative to generic lighting solutions, you should opt for a sky panel light diffuser. This light still provides an adequate amount of light but is not as bright as some blinding LED spotlights. The illusion of a skylight also creates a relaxing ambience, which is excellent as office jobs can be quite stressful and overwhelming at times. For efficient and professional installation of this panel light diffuser, you should contact electricians Milton Keynes.
Standing treadmill desk
A walking workstation would make a great addition to any commercial property as it increases daily fitness levels while simultaneously decreasing time spent sitting down. A treadmill desk has a plethora of benefits, which include improvements in mental health, physical wellness and job performance. It is a well-known fact that regular exercise improves your mood and decreases anxiety through the release of endorphins. Moreover, if you work in an office where creativity is key to success, then this treadmill is definitely worth considering. In a study conducted at Stanford University, it was discovered that subjects were able to think of more creative ideas while walking on the treadmill as opposed to just sitting down. The productivity benefits of this gadget were also proven in a study conducted by the University of Minnesota. The findings from the study highlighted that the work performance of people who used a treadmill desk for a year didn't decline (aside from a very brief, initial adjustment to the change). In fact, it concluded that work quality, mental performance and time management all improved on days when employees exercised.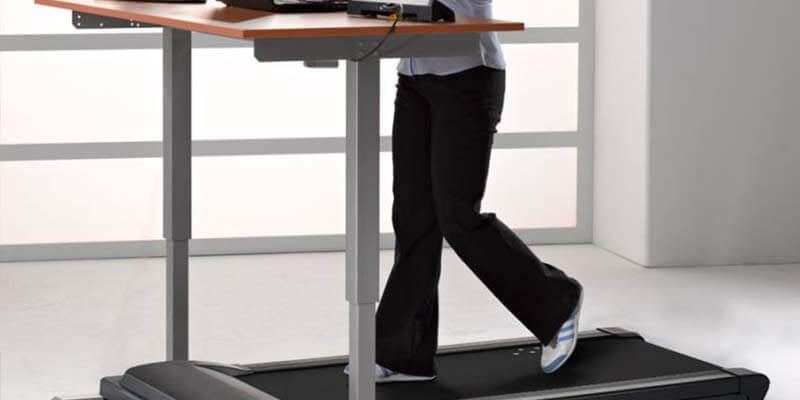 Photo credit: LifeSpan fitness
Pip stress management device
We can all agree that work can sometimes be a little stressful, and it can really impact your ability to work to the best of your ability. With the Pip stress management device you can effectively manage your stress with its biofeedback. The sensitive skin pores on your fingertips can easily indicate when your stress levels change, so pip use this to their advantage and have created this gadget to monitor these changes and provide calming methods you can utilise to make you feel more at ease. There are four free apps that work alongside this device, which help you visualise your stress levels as well as suggesting appropriate stress relief techniques: The Stress Tracker, Clarity, The Loom and Relax & Race.
As dedicated as we all are to our work, it's important to prioritise our mental health and ensure we take the necessary steps to feel relaxed and content in the workplace. With this gadget, you can do exactly that with ease, making it the perfect addition to any office space.
Saent button
Saent is renowned for being the world's first smart device and app specifically designed to help you focus at work and also develop healthier, more balanced habits. By blocking digital distractions, the Saent button encourages employees to focus on one task at a time, while taking adequate breaks to recharge. The product itself is built around four core principles: single-tasking, stop distractions, healthier work rhythm and creating a physical connection to productivity. Effectively, the Saent device acts as a "do not disturb" sign for your desk, which is ideal if your work in a busy office and are prone to distractions.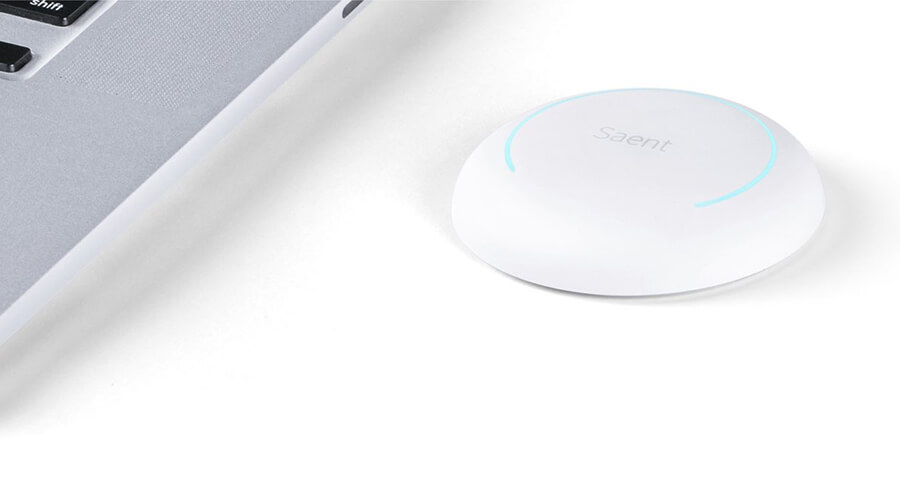 USB mini fridge
As previously mentioned, staying hydrated throughout the day is vital for your health and wellbeing. Although most offices should have their own refrigerating facilities, there is always the chance someone could mistake your items for their own. If you want to avoid another employee drinking your cold beverage which you'd been looking forward to enjoying at lunchtime, a USB mini fridge is what you need. Big enough to hold a single can, this fridge is compact enough to sit comfortably on your desk without causing disruption. This product is extremely useful during the summer months when you are feeling exhausted from the heat and need a cold drink to energise you.
Why use smart gadgets in your commercial building?
Smart gadgets in the workplace are becoming an increasingly popular trend due to their ability to increase employee morale and overall productivity. As well as quirky gadgets, it's essential to make sure all other electrical appliances in your commercial property are safe to use and functioning to the best of their ability. If you need any assistance, do not hesitate to contact our electrical contractors in Bedford who are fully qualified and dedicated to ensuring all your electrics are in pristine working order before they leave the premises.