Commercial properties are used 24 hours a day, seven days a week which means that over time, they go through their fair share of wear and tear. Both the interior and exterior of a commercial building age meaning that not only do they begin to look visually unappealing for visitors, but employee motivation will drop.
How To Revamp Your Commercial Building
The extent of you revamp ultimately depends on your budget for the project, often small upgrades here and there are enough to boost employee morale, but in other cases, a full refurbishment would be the best route to take as a business owner.
We've devised a list of our top five commercial building revamp ideas to give you some inspiration, ranging between both ends of the budget scale, so keep reading!
1. LED Lighting
Particularly in older office buildings, there are little windows meaning that it is incredibly easy for the workplace to become dull and dingy looking. Not only is a dark room unattractive, but it makes everyone feel sleepy and sluggish, leaving them counting down the hours until they can go home.
To create a brighter and airier environment, we suggest replacing all of your traditional lightings for LED alternatives. LED lighting is proven for opening the mind, enhancing both productivity and motivation in the workplace. They also last up to 40 times longer than a traditional light bulb and are increasingly more energy efficient, also saving you money on electricity bills. It is always recommended to opt for placing a light overhead all employees workplaces.
You'd be surprised how much you can modernise your office space by fitting various different modern, contemporary LED lights; it is your choice whether you opt for fitting ceiling lights or a few additional free-standing lamps. A few months ago, we fitted an LED sky panel light for a client to open up the room and create a more relaxing, natural atmosphere.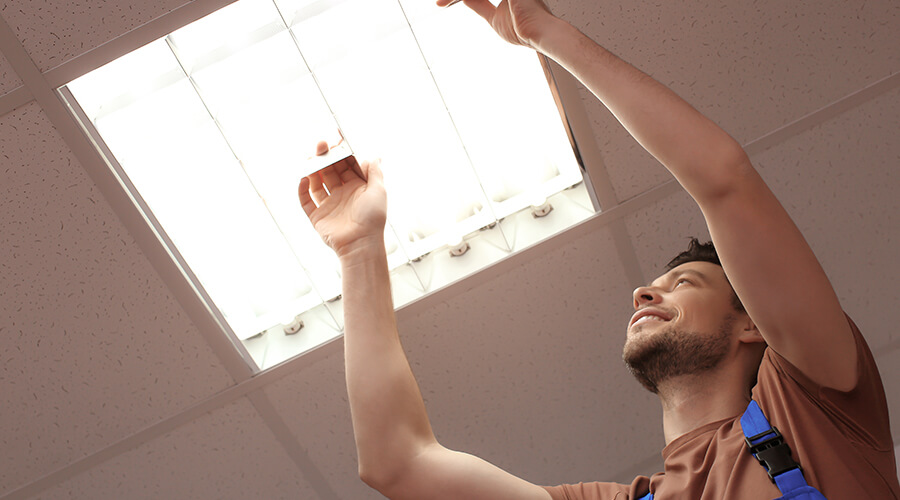 2. Landscaping
Not only is it vital to ensure that the interior of your commercial building is immaculate and welcoming for employees, but also to create a positive first impression for visitors. First impressions matter, and often a visitor, whether this may be a client or customer, would have made their decision on your business before entering, even if you have a high reputation.
Many different services are involved in landscaping from grass cutting and shrub pruning to tree maintenance and leaf clearances, all in aid of maintaining a neat and tidy exterior of your commercial property. As a business, a contract can be constructed for grounds maintenance Milton Keynes, in which your chosen team of maintenance experts can visit your workplace monthly or every few weeks to carry out any work required.
A massive benefit of opting for commercial maintenance is that it guarantees on-site safety, as all slipping, tripping and falling hazards on your grounds are removed.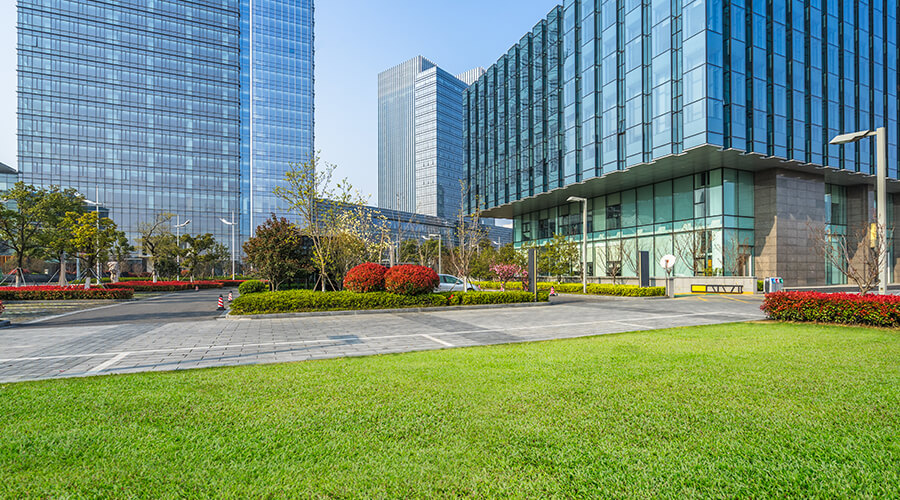 3. Utilise Glass
Glass is often disregarded as a material used in buildings as many assume that it is too fragile, which although glass breaks easily, is fantastic for construction. Utilising glass in areas of your building creates an instant modern look and often makes your property look larger due to the reflections. As glass will not corrode or rust, the material will also last longer before discolouring, although regular cleaning will be required.
The most popular use of glass is in the main reception and entrance area to create an open plan, airy atmosphere. Large windows can be placed around the door, so visitors can instantly see into your reception area and have a visually appealing garden area to look at while waiting.
If you still aren't sold on the idea of adding glass to your commercial property, take a look at this article on the 20 most beautiful glass buildings in the world!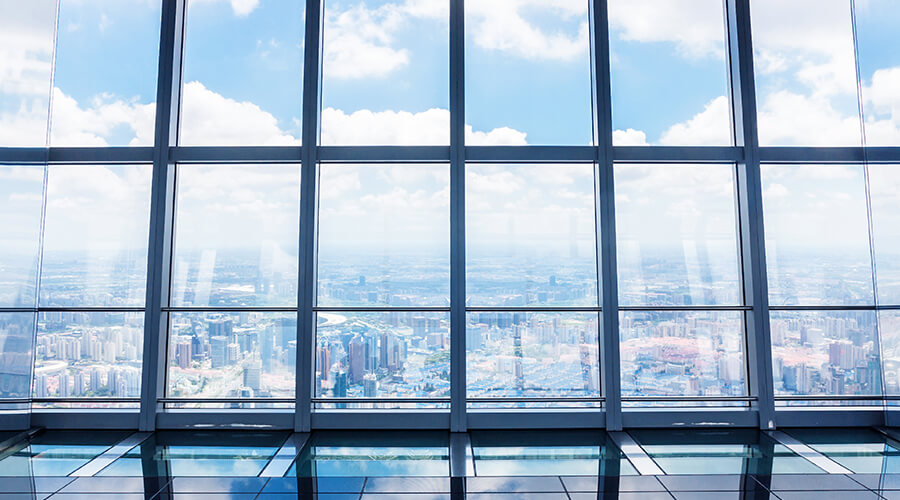 4. Re-Wiring
Upgrading the wiring in your building is a legal requirement to meet current safety standards if you have not undergone re-wiring at all in the past 30 years, however, comes alongside more benefits that you would expect.
In the modern age, where technology is just about taking over the world, old wiring, unfortunately, often cannot withstand the demands of modern living making the workplace potentially dangerous. This often causes necessary technology such as wi-fi to become incredibly slow, make employees job ten times harder having to wait several minutes for browsers to load.
Booking in with your local electrician to re-wire the workplace will be highly beneficial in making processes seamless and quicker. A high-speed connection gets jobs done faster, and clients or customers stay happy. If you regularly hold meetings, it will remove the awkward silences and embarrassment of a presentation that is taking several minutes to load!
5. Office Planting
Last but not least, a fantastic way to revamp your commercial building and add a touch of life is through office planting. Office planting is ideal for adding small bits of colour to your office and perfectly compliments a white colour scheme to create a contemporary feel.
Plants also have numerous different health benefits, which will reduce stress and encourage productivity in the office. As plants filter the air of all harmful chemicals and help to keep the air clean, so you only breathe in pure oxygen, employees will feel more awake, and the risk of picking up an illness will be dramatically decreased.
If you do plan to purchase and install office plants, it is recommended to keep the rest of the workplace minimalist to avoid creating a cluttered look. Cluttered environments make you prone to distractions, making you feel lazy and unable to concentrate for long periods of time.
For some inspiration on the best plants for the office, take a look at this Ambius article and then head over to Crocus to purchase some stunning flowers!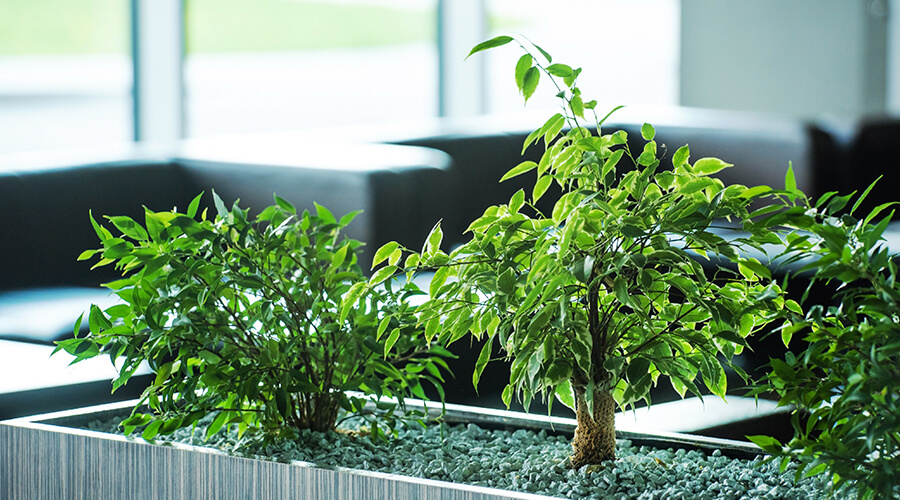 Revamp Your Workplace Today!
From cost-effective upgrades such as clearing your office of clutter and adding a touch of life and colour through plants or installing LED lights to long-term commitments such as a commercial maintenance contract, there are various ways that you can spruce up your commercial building. Always spend some time researching and discussing with colleagues and others who work within the building to uncover their opinions and gather ideas before putting plans into place – that way, you can keep everyone happy!