During the summer months working in an office can be gruelling and tiresome when you are sat inside, in the warmth, without air con. Office cooling is a must to make the team motivated and happy in their workstations.
Why Is Office Cooling Important?
It can be tough to focus and get things done when you are too hot and bothered. It's demotivating and can make you feel sweaty and sluggish. Most businesses make the mistake of not installing air conditioning Milton Keynes and leave their employees dehydrated and uncomfortable.
Although it's not practical for businesses to fork out for expensive fancy air con units, they have a budget in which they have to stick to. So you might have to take matters into your own hands to ensure that you stay cool at your desk. So if your struggling to keep cool in your office then not to worry, we have come up with some ways that you can stay comfortable and at optimum temperature at work. So keep reading!
Air Conditioning Units
Of course, we have to state the most obvious and easiest way to stay cool at work. Air conditioning units can be costly dependant on which unit you choose, and the costs of labour for instalment. Although if you use the correct company, you can find deals and end up having a high-quality air conditioning unit installed for a reasonable price.
We would say that air conditioning is the most effective coolant and is the easiest to control, as well as this some air con units can even swap roles during the summer and work as heaters as well. So really it's a good all year round investment if your company can compromise the budget.
Turn Things Off That Are Not Being Used
Although it may not seem like it can make a big difference, large-scale commercial electrical equipment can produce a lot of wasted heat. Things like printers, computers, scanners and TV's can produce a wasted 20% energy in the form of heat. When you combine all of your office appliances together, this can make a massive difference to the temperature of your room – especially when it's already warm.
Dress Suited To The Weather
If you know that it's extremely hot outside and that you have no cooling system in your office, then it's important that you dress suited to fit the temperature. Dresses and skirts are suitable for an office environment and will provide more comfort in heat than jean materials or thick tight trousers that will stick to you.
Try and wear flowy skirts that have lighter materials as opposed to a tight, figure-hugging leather pencil skirt. And for the men, if your suit is feeling a bit hot around the neck, it could be time for a change. If you are not required to wear a suit to work, then during the heat don't. Choose a light and airy shirt that isn't too tight around the arms or neck so that you don't feel trapped. If it fits your work dress code, wear shorts that are dark in colour like chino shorts so that you aren't wearing heavy tailored trousers or jeans.
Stay Hydrated
Unfortunately in the warm weather, the hotter it is, the more you sweat. And the more you sweat, the more water your body loses. Meaning that it is very very easy for you to become dehydrated just by sitting at your desk. Make sure that you have access to water in your office and slowly sip it all throughout the day.
It's essential that you consume a reasonable amount of water every day, let alone during the hot summer. We recommend doubling your daily intake during extra hot weather to avoid dehydration. If you are worried about becoming dehydrated, take a look at this article for the main signs of dehydration.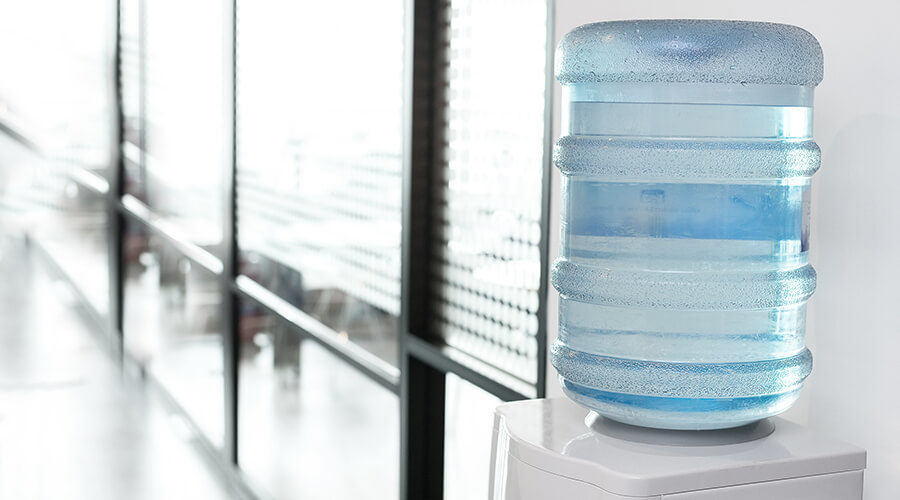 Make The Most Out Of Ice
Ice should be your best friend; it is one of the best things to keep you cool. If you can't have air conditioning, place a large bowl of ice in front of a fan, and it will bow out cold air just like an air con unit.
As well as this, iced water can be put in your drinks to cool you down. Or wrap ice up in a tea towel and rub it over your body temperature pressure points every few hours to cool your body down. Not sure where your body's temperature pressure points are? Find out here!
Have A Personal Fan
And if you really want to keep cool at your desk, one solution that is the next best thing to air conditioning is a fan. You can purchase plug-in fans that are large and can be used in offices or at home to cool the room down. However be sure that if you are taking the fan to work that you have PAT testing Milton Keynes, or you could be breaking the law.
As well as large plug in fans, you can even purchase tiny desk fans that can be plugged in or are battery powered. They can be clipped onto the side of your computer, or they even have an adjustable stand. We love these desk fans that are perfect for cooling down in a hot office.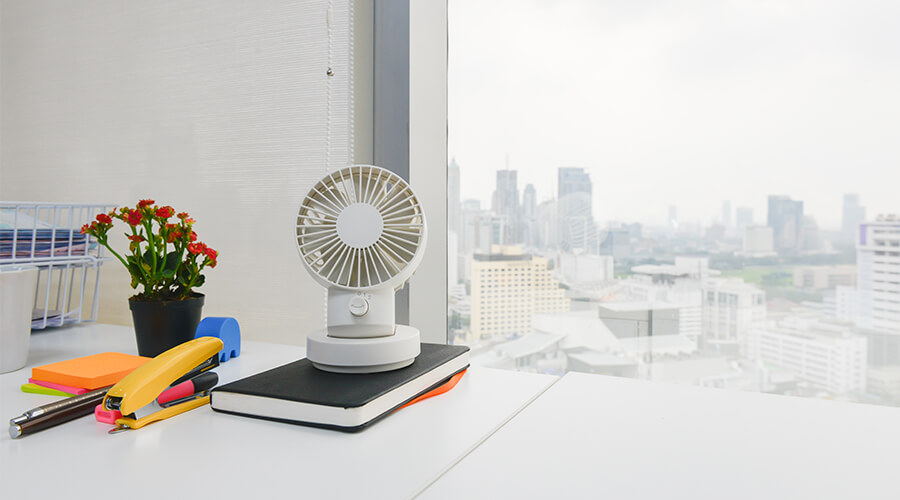 Draw Blinds Or Curtains
Although you may not want to block out the sun and nice view from your office, it can be effective at cooling down the office by putting down the shutters or closing the curtains.
By doing this, you are reducing the amount of sunlight and heat that can come through the windows. Which therefore minimises the amount of natural heat that is let into your office. So although you might not want to work under complete artificial light, it can help you cool down the entire office. If you want more natural looking lighting in your office then LED lighting Milton Keynes are fantastic at recreating a natural light that is comfortable to work in.
Cool Your Office Down Today!
So by following these top tips, you can help cool your office down and stay comfortable in your workstation. If you need any help with air conditioning units or want to know more information, then contact qualified electricians Milton Keynes.
We hope that this article was helpful, if it was then why not share on social media?